Ira Aldridge – The Black Tradgedian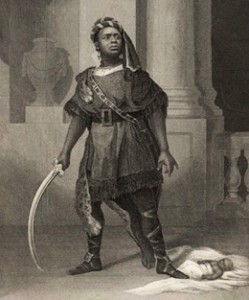 Aldridge was already, he was a keen actor and he realised that his prospects of Success in racially segregated America were essentially poor.
He made his debut on the English stage and was described as' the first night of the celebrated American Tragedian in a new and effective melodramatic romance called 'The Revolt of Surinam ( former Dutch colony in south America) or a slaves revenge'.
He married an English Woman called Margaret Gill, the marriage provoked such anger amongst the Slave Lobby that Aldridge was shunned for a year. Pro slavery forces launched a concerted campaign to prevent him from performing.
This forced Aldridge to act outside london and he took on the parts of Othello and orinooko regularly. However he was also practising part written for white actors, such as Macbeth, King Lear and shylock.
Aldridge came back to London to play Othello at Convent Garden, this was to cause even greater outcry as he acted along side White actress Ellen Tree.
The Times was to lead the attack on Aldridge pronouncing 'In the name of common Propriety and decency, we protest against an interesting actress and lady like girl, like Miss Ellen Tree, being subjected to the indignity of being pawed by Mr Henry Wallack's Black Servant.' The Standard though, supported Aldridge, commenting that he was a first rate actor. The pressure forced the manager of Covent Garden to discontinue Aldridges Performance.
Over the next 19 years Aldridge played mainly the provincial theatres, until July 1852 when he left england for a tour of Europe. He Performed in many European Cities even in St Petersburg, Russia. He returned to England In 1857 . Whilst on tour he had been highly decorated my the Monarchs of europe, he had been made a knight of Saxony.
Now the Newspapers told a very different story, and no theatre could afford to overlook him.  Aldridge died in Lodz, Poland whilst undertaking a second European tour.
A quote from a biography of Aldridges' life says'
This was the man the unhonoured and uncelebrated and unknown people, held in slavery gave the world. It was from an epic struggle of his people to overthrow their masters that this great Negro Tragedian derived his strength, his genius, all his magnificent art
BBC Radio Programme
Kwame Kwei-Armah traces the life and work of Ira Aldridge, a black actor who defied racial prejudice to become one of Britain's finest Shakespearean actors.
When Aldridge first appeared on the London stage in 1825, he was enthusiastically received by the public but the critics hated him, The Times going so far as to say that he could not pronounce English properly, 'owing to the shape of his lips'. Here was a black man daring to break into the heartland of the British 'classics', which had hitherto been the exclusive domain of white actors.
But, undeterred by the racial hostility of the press, Aldridge became a perpetually touring player, an exotic 'star', honing his skills in the provinces and across Europe. In a career spanning 30 years, he became one of Britain's finest Shakespearean players, and had more honours showered upon him than any other actor of his time.
Broadcast on:

BBC Radio 4, 11:30am Thursday 8th October 2009

Duration:

30 minutes

Available until:

12:02pm Thursday 15th October 2009